Spanish Wine by Region Series: Wines of País Vasco
País Vasco, or Basque Country, is a region in northern Spain known for its independent spirit, delicious pintxos, and fun-loving people. One thing that it's not known well for is its wine, a tradition that has been a part of the region's identity for centuries. As we move along with our Spanish Wine by Region series, in this installment we're taking a closer look at the fascinating world of the wines of País Vasco. Pour out a glass of your favorite and join us on our journey!
About the wines of País Vasco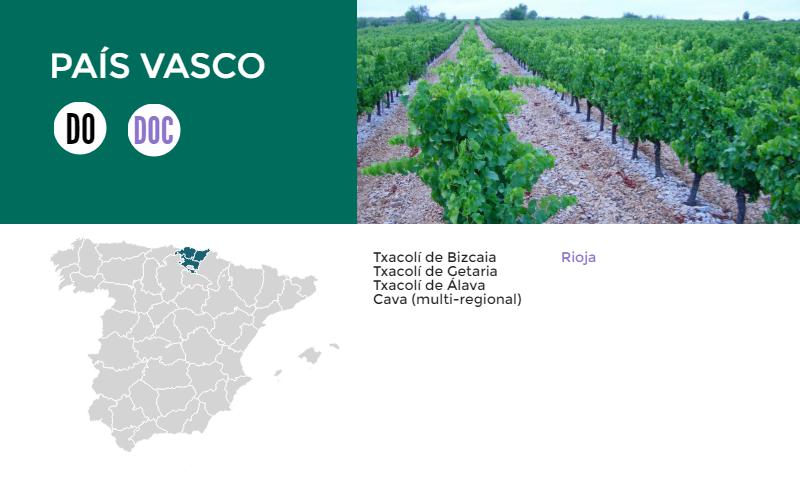 The wines of País Vasco fall into two categories: Rioja Alavesa and txacolí. In our installment on Rioja wines, we already mentioned the Rioja Alavesa DO. This is because even though 20% of these wines are labeled as coming from La Rioja, the grapes are actually from the province of Álava in País Vasco. While this region of Spain has breathtaking landscapes, like the Bay of Biscay and the Pyrenees Mountains, the conditions for growing grapes are best in the southern part of País Vasco, in Álava. These are traditional Rioja wines, both red and white.
The other category of the wines of País Vasco is txacolí, which is a part of Basque culture that goes back countless generations. Just as the Basque people have their own culture and language, they also have their own traditions when it comes to wine. Txacolí, a lightly-sparkling wine, is one of them. Until the 1980s, this wine was mostly made in farmhouses and consumed by families, not yet a commercial item. This changed as the Basque people toiled endlessly to make txacolí popular, to help preserve their history and culture and show their skills as winemakers.
See more: Spanish Wine by Regions Series: Wines of Madrid
Txacolí DOs
Txacolí is a lightly sparkling, dry white wine that is low in alcohol and high in acidity. It's an aperitif to help open up digestion in preparation for the meal. When you buy a bottle, it should be drunk within the year for best taste. The white variety typically is pale green in color and light and fruity in taste, so most find it quite easy to drink. While white is the most popular variety, there are red and rosé varieties that are less common. Traditionally, txacolí is poured into a flat-bottomed glass from a height to increase the bubbles. There are three designations of origin (DOs) in País Vasco where txacolí is produced.
Txacolí de Bizcaia is the northwestern section of País Vasco, which borders the Bay of Biscay. Most of the vineyards here are towards the coast, however, there are some scattered about throughout the interior, as well. The vineyards near the coast experience an Atlantic climate, with cool, humid weather. Those that are in the interior have a warmer, drier climate. Since both conditions are quite different, both climates grow different kinds of grapes. White txacolí has an alcohol content of 11%, and the rare rosé, called ojo de gallo, has 12%.
Txacolí de Getaria is the oldest DO of txacolí, which was established in 1989. It's 30km from the French border and is surrounded by the Pyrenees and to the east and the Atlantic sea to the north. This DO is small but considered to be the most important when it comes to wines of País Vasco, as it produces the most wine. Most vineyards are located in the north of the Guipúzcoa province, and face away from the sea to protect the vines from the sea breeze. Most of the wines from this DO have an alcohol content of 10.5% and are very dry and acidic.
Txacolí de Álava is in the northern part of the Álava province, located inland, south of Bilbao. The humid climate provides the right conditions to make wines that are fruity, light, and very dry. Most have the minimum required alcohol content, 9.5%. The cool, humid climate deters the grapes from reaching a high must weight, which results in a wine that's fairly low in alcohol. It's the youngest DO of the wines of País Vasco, established in 2001.
Grape varieties
The bulk of the wines of País Vasco are white wines, but there can be others, as mentioned. Here are the grape varieties that grow in each DO of País Vasco.
Txocolí de Bizcaia: Hondarrabi Zuri (principal), Hondarrabi Zuri Zerratia, Folle Blanche, Sauvignon Blanc, Gros Manseng, Petit Manseng, Chardonnay, Riesling (whites) Hondarrabi Beltza (reds)

Txacolí de Getaria:

Hondarrabi Zuri (principal), Hondarrabi Zuri Zerratia, Gros Manseng, Petit Manseng, Riesling, Chardonnay; (whites) Hondarrabi Beltza (reds)

Txocolí de Álava:

Hondarrabi Zuri (principal), Petit Manseng, Sauvignon Blanc, Chardonnay, Gros Manseng, Petit Courbu, Riesling; (whites) Hondarrabi Beltza (reds)
To try the best wines of País Vasco and the rest of Spain and Portugal, join Food Lover Tour on an epic food journey through your favorite city!